Goddess Irene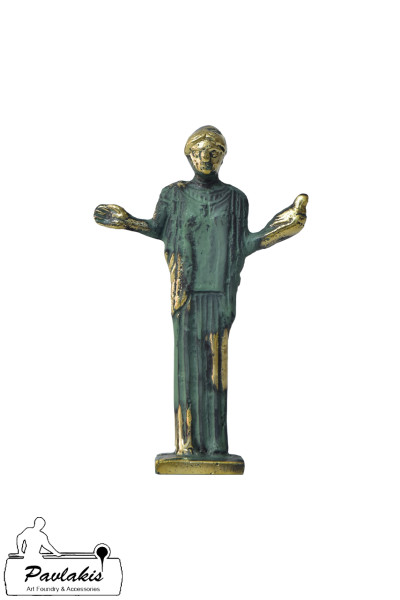 Dimensions:
15.00cm x 23.00cm
In the center of the Agora of ancient Athens towered the statue of the Goddess Irene, personification of the peaceful state of affairs, holding a little boy wealth, with his right hand outstretched towards the face of the goddess, while with his left hand holding the cornucopia that is a symbol of abundance. The goddess Irene, one of the three hours, was the daughter of Zeus and Themis, and she was the sister of the trial and the Eunomia which are the Supreme goods of a society... together they guarded the entrance to Olympus, and supervised the well-being of men. Their task was to watch the works of men... the goddesses were the first to welcome Aphrodite and, having clothed her, accompanied her to Olympus. It is reported that they were assistants of The Sun God and in addition they helped the goddess Flora in her work, in the vegetation of the Earth, regulating the seasons of the year.
Handmade brass sculpture, with Quality Guarantee.
Traditionally made by the method of casting metal and by oxidation similar to the museum.
The products are handmade and for their production it takes 5-7 days.